Hey guys,
Today in this post I am going to tell you about the top 10 best fitness bands under Rs. 1500. Here top ten fitness bands under 1500 price. I hope you will like this top list of best fitness bands at a cheap rate because low-budget people also want to buy a good quality product at a reasonable price . We all know if we purchase any smart wearables from the well-known brand it comes around Rs 3000 – 4000 so here I have got the top ten affordable and best wearable bands for your review. These are the latest collection of top brands.
Also Read:- What exercise burns the most calories?
Top Ten Fitness Band Under 1500:-
.
1. Fastrack Unisex Band activity tracker
Fastrack Unisex Band activity tracker is a must-have for anyone who wants to keep track of their fitness and health. It tracks your steps, distance traveled, calories burnt, active minutes, and sleep quality. It also alerts you with call and message notifications. This Fastrack Activity Tracker has a unique design that allows it to be worn on either wrist. The Fastrack Unisex Band activity tracker is an ideal gift for any occasion!
Features
Touch button
Display: Black and White
Upto 10 days battery life
1 year warranty
Compatible with iOS 8.0 and above & android 5.0 and above except the following phone models :Samsung Galaxy A9 Pro, Samsung Galaxy C9 Pro, Moto G5 series – all phones, Samsung Galaxy J2 Pro
Distance, steps and calorie counter
Sedentary reminder
Sleep tracker
Whatsapp & SMS display on screen
Call notifications
Camera control
Band Color: Black; Band Material
Thermo plastic
Dial Shape: Rectangular
Dial Glass Material: Acrylic; Case Thickness:12.5 mm; Case Length(6H-12H):50 mm
USB type charging
etc.
Links
2. Mi Band 3 (Black)
The Mi Band 3 is an activity tracker with a touch screen. It tracks your steps, heart rate, distance traveled, calories burned, active minutes, and quality of sleep. You can use it to set goals for yourself. The Mi Band 3 comes with a strap that you can adjust to fit your wrist size. Its battery lasts up to 20 days on a single charge so you don't have to worry about charging it frequently. It has an IP
Features
Wireless connectivity
Up to 20 days of battery life
Use Mi-Fit App to connect the phone.
Connectivity – Bluetooth 4.2.
Battery capacity : 110mAh
0.78" OLED touch screen.
The adjustable strap length is 155 – 216mm
Call and Notification Alert: Read messages and receive call notification and alerts from applications such as Uber, WhatsApp etc
Continuous Heart rate monitoring,
sleep analysis
advanced step tracking
Find my phone feature – Ring your phone, if it is misplaced
Phone Unlock feature (Android Only)
5ATM – Water resistant upto 50 metres
Get Idle Alert and Weather Forecast, View data by simply raising your wrist
Devices with Android 4.4, iOS 7.0 or above with Bluetooth 4.0 and above
etc.
Links
3. Realme Band
Realme Band is a smart wearable device with a full-color screen and touch key, which can be paired with your smartphone to receive notifications from apps like Facebook, WhatsApp, Instagram, etc. It also has in-built USB charging that makes it convenient to charge anywhere. You can wear this band on your wrist or attach it to your clothing at your convenience. The IP68 rating ensures you don't have to worry about the weather either – even if you jump into water up to 1.5m deep!
Features
Large Color Display
Touch Button – The touch button make the display simple and intuitive to operate. Single tap to go to the next and long-press to access different levels within an option.
Install the App by searching and downloading "realme Link" on the Google Play Store.
Long Battery Life
Heart Rate Monitor
9 Sport Modes – such as Walking, Running, Yoga, Cricket, and more.
App Notifications
etc.
Links
4. HolyHigh Fitness Band
HolyHigh Fitness Band is the first smart band with a heart rate monitor, sleep monitor, and pedometer in the world. It can track your steps, distance, calorie consumption, and sleep quality automatically. It also has many other functions like call reminder, sedentary reminder, message reminder, time display, etc. HolyHigh Fitness Band will help you better control your health! The holy high fitness band has a 0.96 inch OLED touch screen that allows you to check all the information at a glance. The battery lasts for about 8 days.
Features
Water Proof
Wireless Connectivity
colorful led screen & directly reject call
Real time heart rate monitor
sleep tracking
Calls
alarm reminder
camera shoot
8+ days battery life
wider compatibility
14 sports types
Comes under Warranty
Links
5. Lenovo HX06 Active Smart Band (Black)
The Lenovo HX06 Active Smart Band is a fitness band that tracks your steps, calories burned, distance covered, sleep quality, and more. It has a 0.95-inch OLED display with touch screen capabilities for easy operation. The smartwatch also vibrates to notify you of incoming calls or messages. You can even use it as a remote control for your smartphone camera to take selfies from afar. This smart band comes with an adjustable strap that fits wrists.
Features
Using the built-in standard USB port, you can directly connect this Lenovo band to a computer or USB charger for easy charging
Monitor the quality of your sleep with this fitness band, it helps you to improve the quality of your sleep to get up to a refreshed morning
This Lenovo band gently vibrates when you receive phone calls and notifications, also it displays the phone number or name of the callers to ensure that you do not miss any important call
This Lenovo fitness band helps you qualify your daily exercise goals, also, encourage you to work out and supervise your daily activities
Activity Tracking Function – Track Steps, Distance, Calories Burned, Pedometer, Sleep Monitor, Active Minutes, Running, Cycling, Gym
Apart from reminders,
this smart band also supports english message display
etc.
Links
6. PTron Pulse Fitness Activity Tracker Band
The PTron Pulse Fitness Activity Tracker with Heart Rate Monitor and Blood Pressure Sensor is a smartwatch that helps you track your daily activities. It features an OLED display, which allows you to view the time, date, steps taken, distance traveled, calories burnt and heart rate in real-time. This fitness tracker also has a blood pressure monitor that lets you check your blood pressure anytime during the day. You can even set reminders for yourself to keep track of your health goals!
Features
Perfect for Sports Management
useful monitors
tracks your steps
distance and calories burnt.
If you forget when you started your exercise regime it's all there on the display.
90mAh Long-lasting Li-Polymer Battery lasts 5-7 days on a single charge.
No hassle of having to charge your watch every day. Just charge your tracker once a week for an hour to reach full charge and wear it and forget it!
etc.
Links
7. Sonata SF Rush Black Dial Unisex's Activity tracker Band
The Sonata SF Rush Black Dial Unisex Activity tracker band is a great gift for your friends and family. It features a 45mm case with a black rubber strap. The watch displays time in digital format and comes with a date display function. This smartwatch has an adjustable buckle clasp, which makes it easy to put on or take off the watch. You can wear this activity tracker wristband while doing your daily activities such as exercise, yoga, swimming, cycling, etc.
Features
Multi Dial Color: Black, Case Shape: Rectangular, Dial Glass Material: Acrylic
Multi Band Color: Black, Band Material: Rubber
Watch Movement Type: processor,
Watch Display Type: Digital
Case Material: Plastic
Case Diameter: 45 millimeters
Water Resistance Depth: 30 meters
touch screen; Strap Type: TPU
12 Months manufacturer warranty on manufacturing defects
etc.
Links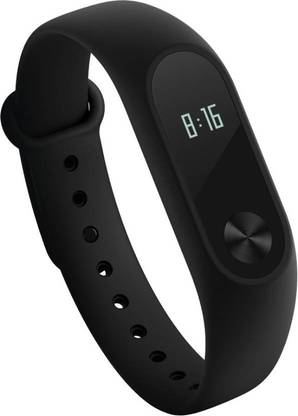 8. Mi Band – HRX Edition Band
Mi Band – HRX Edition is a wristband with an OLED display, which keeps track of your daily activities and sleep patterns. It comes with an IP67 certification that makes it resistant to sweat, cosmetics, dust, water splashes, and corrosion. The smart band automatically tracks your steps taken, distance covered, calories burned, and active minutes. It also shows you the time of day on its OLED display. You can also use the Mi Band app to log your food intake for better diet control or to set up a reminder when you have been sitting idle for too.
Features
23-day battery life
IP67 certified – resistant to sweat, cosmetics, dust, water splashes and corrosion
Call & Notification alert
Idle alert
OLED Display
Water Resistant
70 mAh Lithium Polymer Battery
Incoming Call and Message Alerts
etc.
Links
9. Riversong Wave O2 Colored Smart Band (Black)
The Riversong Wave O2 is a smart wristband that helps you to improve your sleep quality, blood pressure, heart rate, and body fat. It also offers real-time notifications of calls, messages, and other social media updates. The band's battery lasts for about 7 days after being fully charged. You can charge it with the USB cable provided in the package. This smartwatch is compatible with both Android 4.4 or above and iOS 7 or above devices like iPhone 5/5s/6.
Features
Deep sleep time
Blood pressure
Laptop charge
1 year warranty provided by the manufacturer from date of purchase
Fitness Tracker
Sleep Monitor
Blood Pressure Monitor
Pedometer
Heart Rate Monitor
Good Battery life
etc.
Links
10. MevoFit Drive Fitness Band & Smart Watch
MevoFit Drive Fitness Band & Smart Watch is a smartwatch with a fitness tracker that tracks your steps, distance, calories burned, and active minutes. Sleep Tracker, Sedentary Alert, Camera Click Shortcut, Anti-Lost (Find My Phone), and Reminders are some of the features of this fitness band. The activity tracker wristband has an OLED touch screen display with gesture control. This waterproof fitness band can track your daily activities including call notifications from your smartphone via Bluetooth 4.0 technology. MevoFit Drive Fitness Band & Smart Watch
Features
No heart rate tracker.
MevoFit Drive tracks your Steps
Distance
Calories Burned
Active Minutes.
Sleep Tracker
Sedentary Alert
Camera Click Shortcut
Anti-Lost (Find My Phone)
Reminders
Fitness Tracker
Activity Tracker
OLED Touch Screen Display
Gesture Control
Large Wireless Waterproof Fitness Tracker Monitor
Call, SMS, WhatsApp, FB, Twitter, Gmail, Skype, and other Notifications displayed on the Fitness Band
A Fitness Tracker with USB dongle – plugin the device in your LAPTOP'S/COMPUTER'S USB PORT for charging. Works on all popular phone – Samsung, Apple, Mi, Motorola, Lenovo, Oppo, Vivo, One+, LG, etc.
Links
Thank You For Reading.